A Beginner's Guide to Building a Home
Owning your own home is rewarding; truthfully speaking, it's part of the American dream. In recent years, the cost of buying a house has risen steadily, which can be partly attributed to the rise in demand. Most people prefer buying an existing one, which isn't necessarily a bad thing because most of them are built to stand the test of time. Moreover, it's been shown that most houses appreciate and can be sold if you want to settle any outstanding debts or use them as collateral for a loan.
On the other hand, building your house from scratch can be satisfying because it allows you to customize it to your taste. There are other advantages, including that you don't have to worry about hazardous materials such as asbestos. Also, building a house instead of buying a ready one may save you thousands of dollars.
What are the Pros of Building Your own Home?
Building your own house instead of buying an already constructed one allows you to customize it from the word go. Other benefits include:
It allows you to choose an ideal location
When done well, the home will serve you for a long time without the need for maintenance.
You can use modern fixtures and decorations
You'll receive a warranty
Improving energy efficiency
Wide range of financing options
Appealing to those who cherish privacy
Cons of Building a House
On the flip side, building a house can end up taking a lot of your time which you may not necessarily have at your disposal. Other disadvantages of building a house include:
It can end up being capital intensive because it may require you to purchase land
You have to abide by a lot of laws and regulations, and this can end up being capital intensive and time-consuming
Should you Hire a Contractor?
Some homebuilders prefer to be their contractors instead of hiring one to save a few thousand dollars. However, this isn't the best approach because the entire process from start to finish usually involves a lot of moving parts, which can catch you by surprise if you've never done it before.
Therefore, it would be best to hire a licensed contractor to help oversee the whole process from inception to completion as you concentrate on what matters to you.
The Process of Building a House
Now that we've established the advantages and disadvantages of building a house and the need for a contractor, let's dive into the how.
Prepare the Site
First, you need to establish where you want your house to be situated, then get down to preparing it. Begin by clearing all bushes, tree stumps, and any debris. You should clear up to 25 feet around the site.
Then, it's the turn of the surveyor to check if everything is in order based on the original map of the property. If necessary, the contractor will make changes to the topography to ensure the free flow of water. It can also help to order dumpsters to come and clear all waste from the site.
Lay the Foundation and Pour Concrete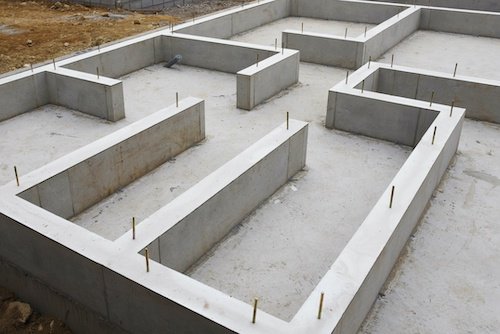 At this stage, several activities take place simultaneously. For starters, you're required to obtain the required building permits and other documents based on your state. Once you've complied with all laws and regulations, only then can construction begin.
Ideally, the first step should begin by leveling the ground by the construction crew. Then, they put the foundation. They may employ the help of a bulldozer to move anything that gets in the way, including trees and debris.
Next, with the supervision of the contractor, the wooden forms are laid to guide the foundation, including showing where trenches and holes should be dug.
Footings are installed. The contractor can either use concrete or concrete cylinder blocks.
The last step at this stage is waterproofing the foundation and creating holes to direct the flow of water from the supply and drain lines.
Installing Electricals and Plumbing
Electricals and plumbing should be done before pouring the concrete slab. This stage is as equally important and should be done only by specialists.
Plumbers laid down the pipes, which are then covered with concrete later in the construction
Electricians lay down the wiring.
Pour the Concrete Slab
A slab foam is first installed for insulation
A gravel base, ideally 4 inches, is poured on the foam base as a base for the concrete.
Place a plastic vapor
Laying of the wire mesh to provide additional reinforcement
Pouring of the concrete
Frame, Side, and Roof of the House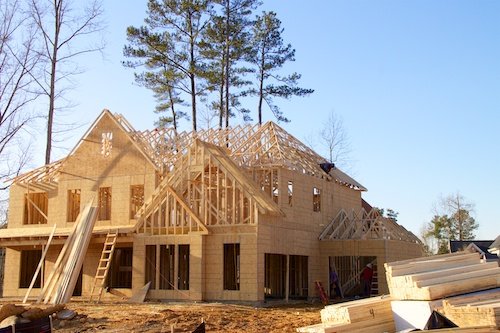 At this stage, you should have an idea of what the house looks like. The carpenters begin by laying the lumber framework for the floors, walls, and ceilings. Next, they'll proceed to install the sheathing, siding, and roof.
The stage can take anywhere from a week to two weeks, and you should have a complete house.
Install Plumbing and Electricals
The workers can then work outside of the house. This is another stage that involves a lot of moving parts, including masons, electricians, plumbers, and HVAC specialists.
The chimney can be installed at this stage
Electricians lay the final preparations for the systems, which can include the laying of ducts and wiring. The final installation is done once the walls and ceilings are in place.
The contractor conducts some inspections
Insulation is done in the walls and attic
Hang dry Wall and Install Trim
Just like the outside, you should by now have a glimpse of what the finished interior will look like.
Drywall is hung throughout the house. Next, the ceiling and wall surfaces are installed
Seams are then taped, jointed, and sanded
The wall surfaces are then primed
Installing trim holdings
Installation of cabinets
Painting and Doing Final Touches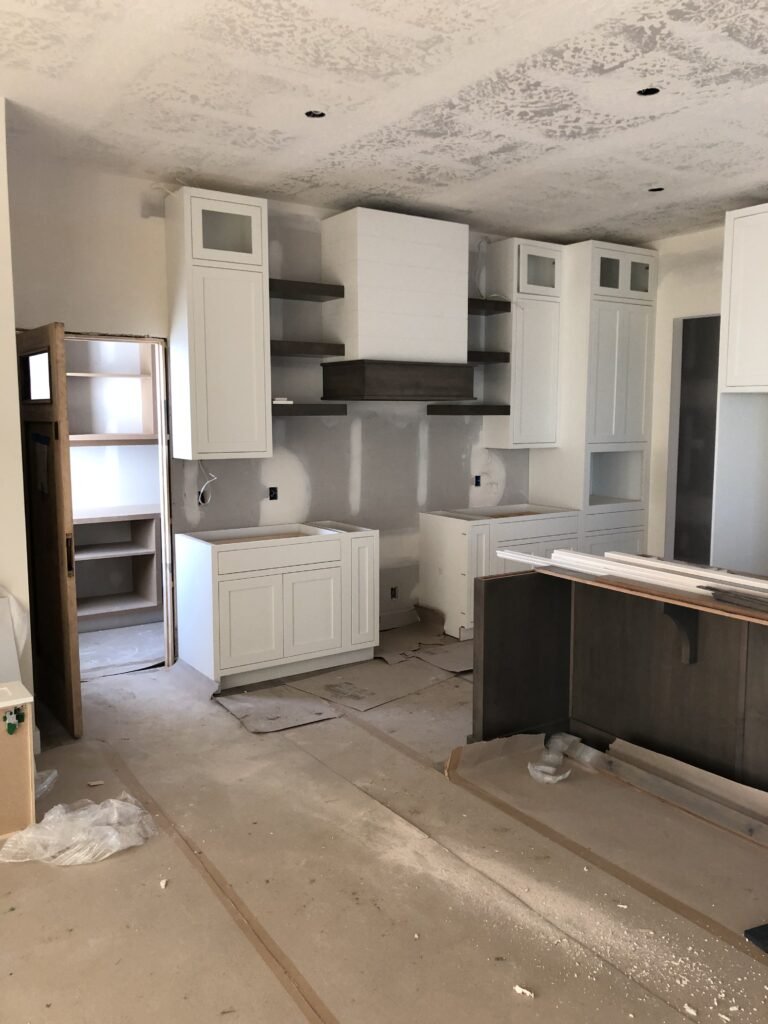 By this stage, the walls should be ready for painting. Other surfaces may be finished off by other textures.
Countertops are installed
Installing remaining cabinets
Electricals are connected and mounted
The Floor is Installed
There are several flooring options, including carpeting, hardwood, and so on. The flooring should only be done by a specialist if you want high-quality work. Lastly, all debris should be cleared from the house and thrown into the dumpster.
Conclusion
We hope this step-by-step guide on building a house helps. The building does not end when the flooring is installed. If you want a house you can call home, you should consider doing some final touches, including landscaping. The most important thing when building your own house is ensuring you work with licensed contractors. Schedule your consultation today!