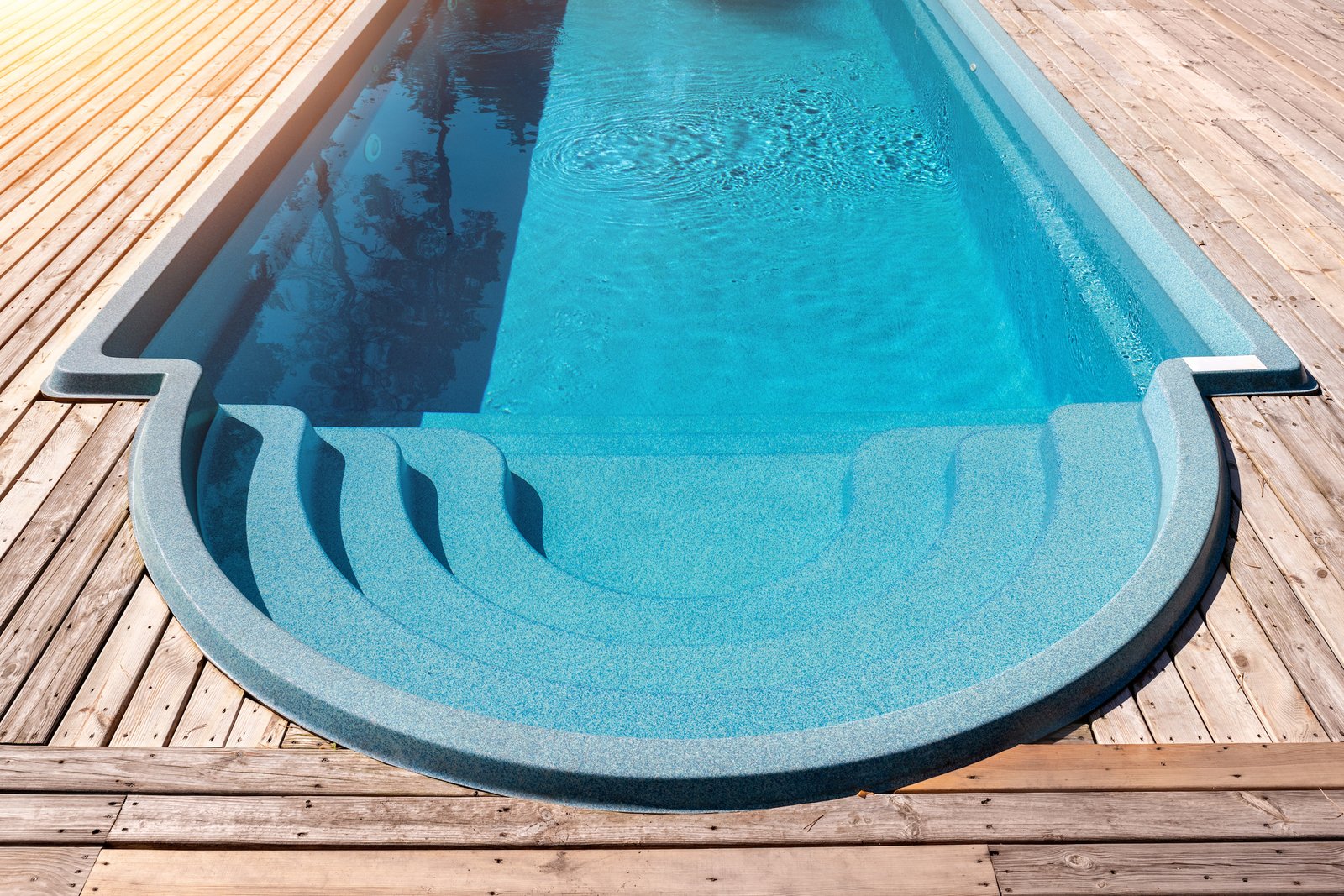 Fiberglass Pools
Fiberglass swimming pools are one of the most popular options for swimming pools because they are easy to customize them color and title edging that you want. However, we a Driggs Construction recommend against a fiberglass pool for 7 big reasons.
View Our Other Pools
7 Reasons To Not Get a Fiberglass Pool
Fiberglass pools may seem like a convenient option when looking to build a pool. However, you should consider the high initial cost, limited options, lack of customization, and difficulty in maintenance before choosing a fiberglass pool. We don't recommend you choose an inground fiberglass pool for the following reasons.
High Initial Cost
Fiberglass pools tend to be more expensive than other types of pools, such as concrete or vinyl liner pools. On average fiberglass pools cost about $40,000 but can go up to $70,000. Whereas vinyl pools on average cost between $30,00-$50,000.
Limited Size & Shape Options
Fiberglass pools come in a limited selection of sizes and shapes, which may not be suitable for everyone. Choose a concrete or vinyl pool if you want a pool that truly fits your yard.
Limited Customization Options
The surface of a fiberglass pool is smooth and non-porous, making it difficult to customize with tile, mosaics, or other decorative features. Fiberglass pools look and feel the same from house to house.
Difficult to Maintain
Fiberglass pools are more difficult to maintain than other types of pools, as the smooth surface can make it difficult to remove algae, dirt, and other debris. Concrete pools are simple to maintain and can last your whole life.
Limited Warranty

Many fiberglass pool manufacturers only offer limited warranties, which may not cover certain types of damage or repairs.
Difficult to Repair

If a fiberglass pool does get damaged, it can be difficult to repair and may require professional help to repair. Depending on the extent of damage you may have to replace your whole shell.
Not as Durable

Fiberglass pools are not as durable as other types of pools, such as concrete pools, which can last for decades with proper maintenance.
Why Choose Driggs
At Driggs Development & Construction, we never use a cookie-cutter approach with clients. Which is why we don't recommend getting a cookie-cutter fiberglass pool. Instead, we design our pool installations to meet your unique needs. We consider the desired size, overall aesthetic, exact location, and much more, allowing us to customize your strategy to ensure you get the pool of your dreams. Are you ready to experience the Driggs difference? Schedule a Consultation Today!
Driggs Pool Project Inquiry
Every pool built by Driggs Development & Construction is designed individualy based on client design aesthetic, needs, location, and desired pool size. So we can better understand your needs, please fill out the form below and we will get back to you quickly so we can get started on your custom pool!
General Information About Fiberglass Pools
Fiberglass Pool Shell
Fiberglass pool shells come pre-made from the manufacturer in your desired shape, size, and color. As the pool shell is pre-made it means that fiberglass pool installation is one of the fastest as the shells are delivered to the excavated site and can be installed in hours.
Fiberglass Pool Shapes & Colors
Inground fiberglass pools can come in any shape you desire. From the traditional rectangle pool, to modern rectangle, and tropical design. Contact us to learn more about getting the shape you want for your pool. Fiberglass inground pools come in a variety of colors. With options like Black, Blue, Gray, Bronze, and White. Contact us to learn about more color options.
Fiberglass Pool Information
Maintenance & Repair
One of the biggest benefits of fiberglass pools is that they require less work. Fiberglass pool maintenance simply doesn't take as much time, effort, and money as concrete. In most cases, you can handle all your cleaning and upkeep tasks in just 30 minutes a week, all while reducing the need for certain harsh chemicals. We perform fiberglass pool repair on cracks, bulges, holes, and other damages that have occurred to your pool. Contact us to get a quote on your pool repair.
Fiberglass Pool Cost
The average cost to install a fiberglass pool is $46,500, though you can spend $21,000 to $60,000 depending on the size of the pool and delivery fees. Get an estimate now for your desired pool.In many cases, fiberglass pool installation comes with a price tag similar to a concrete pool. However, you'll experience significant savings over time. Fiberglass pool maintenance is far simpler, allowing you to avoid some potentially costly ongoing expenses. Plus, repairs are often less expensive, and you'll never need to resurface.
Installation
Fiberglass pool installation requires far less time than concrete alternatives. The fiberglass is formed and shaped in advance, arriving at your property as a complete unit. After the spot for your pool is dug out or set up, the fiberglass pool is positioned quickly, allowing the finishing steps to begin practically right away.