Gunite/Concrete Pools
At Driggs, we help you design and build Gunite and Shotcrete pools that fit your wants and needs. We take pride in making unique and personalized pools that last a long time.
About Concrete Pools
Gunite Pools also known as Shotcrete Pools are forms of Concrete Pools. Gunite pools are made from dry concrete being mixed with water in a hose. Shotcrete is made from already wet and mixed concrete.


Once the Gunite or Shotcrete is sprayed onto the pool layout it needs time to harden in order to reach its full strength and durability. This process is called curing and takes about a month.


You can change the strength of your concrete pool depending on how many sacks of cement you add to the mix. More cement = stronger concrete.


Concrete Pools provide lots of advantages as they have nearly limitless customization options to fit any backyard, size, and design. They last a long time, and they look really nice. You can expect a well-done, properly maintained concrete pool to last 40 or more years.
GET STARTED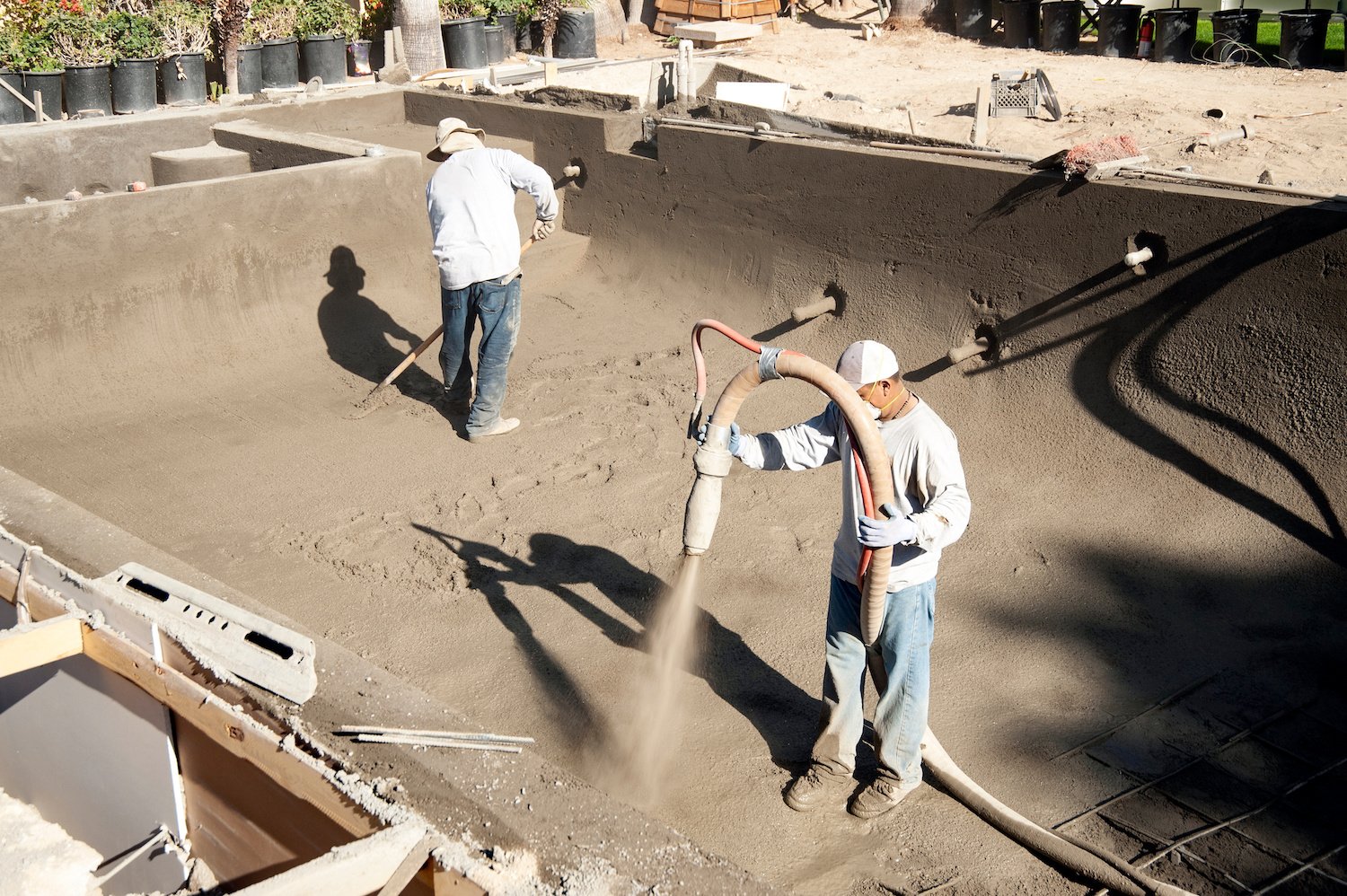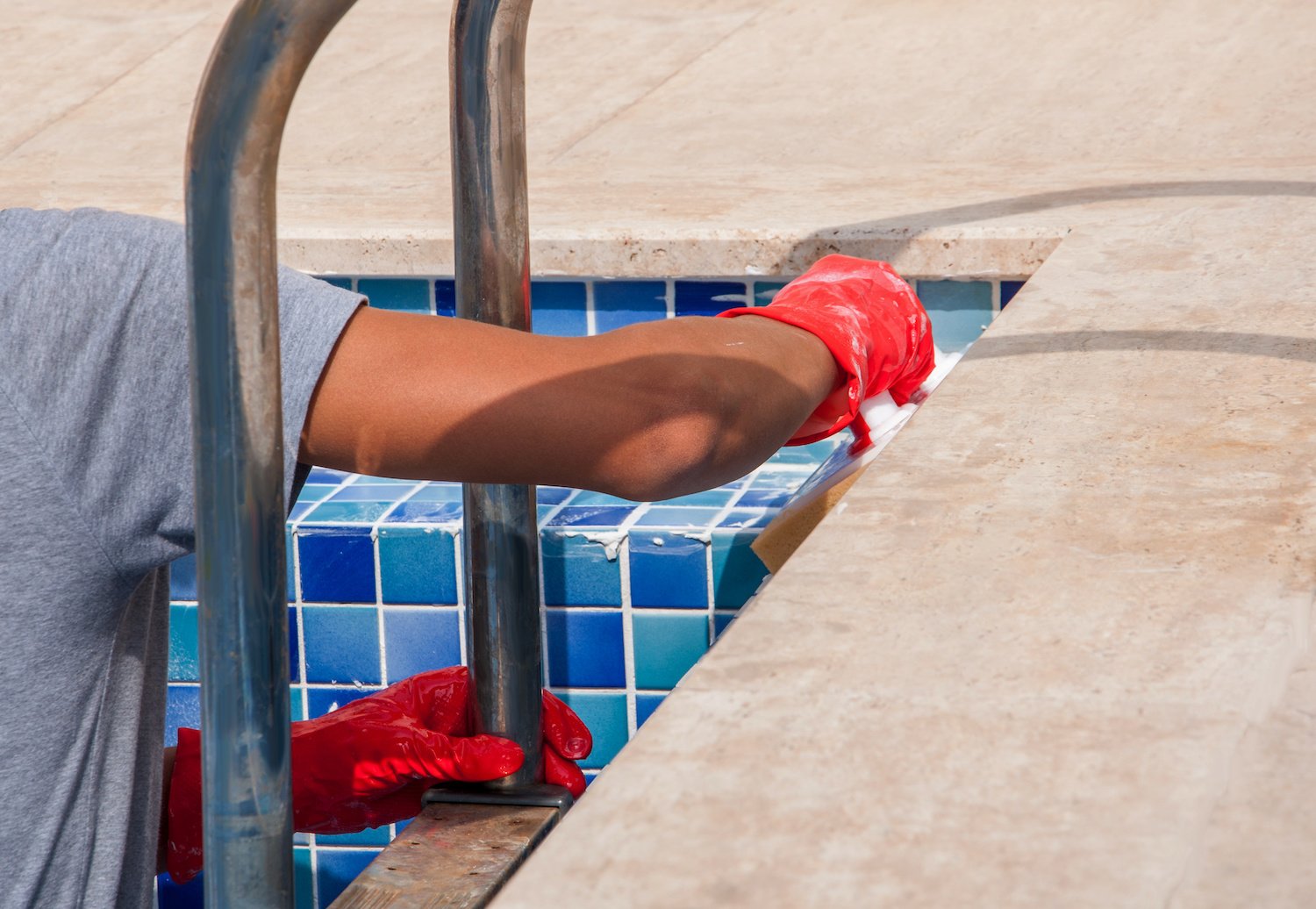 Concrete Pool Repair
We are happy to help you repair your concrete pool. Though concrete pools are designed to last a long time and are quite durable, lack of proper maintenance and harsh elements can still cause damage to your pool. We provide concrete pool repair services to help get your pool the way you want it.
GET STARTED
Some of our Concrete Pool Patio Services:
Stamped & Modern Concrete Pool Decks


Stamped concrete pool decks are a popular modern pool deck option. Stamped concrete pool decks have a wide array of colors and patterns that allow for the greatest customization for a design that you love.
Staining Concrete Pool Decks
Staining a Concrete pool deck is another popular choice. Using a simple concrete deck and stain to create the design that you want. Contact us for a quote on staining your concrete pool deck.
Concrete Pool Deck Resurfacing
Have an old pool deck that needs to be refurbished? Here at Driggs, we offer concrete pool deck resurfacing to repair and update the look of your old pool deck. Contact us to get an estimate.
How much does a Gunite/Concrete Pool Cost?
Concrete Pools on average cost $70,000 though they can be as low as $50,000 and upwards of $100,000 depending on the size, landscaping, and additional features desired for the pool. Contact us to get an estimate on your pool!
What is Pool Coping?
Pool coping is the protective cap made of masonry material that is placed on top of the pool edge or shell wall. The purpose of coping is to protect swimmers and guests from the exposed bond beam used to frame the pool. Installing a coping cover also directs water into the deck drain.
Should I do Concrete Pool Coping?
Every pool owner should install a pool coping to protect people from the exposed bond beam. However, when it comes to pool coping there are many different options for the cap material. Concrete pool coping is known for its durability and tends to be more cost-effective as a cap material.
How long does a Concrete Pool Last?
A well done, properly maintained concrete pool should last 40 or more years. However the pool's lining and finish has to be resurfaced every 10 years or so.
Driggs Pool Project Inquiry
Every pool built by Driggs Development & Construction is designed individualy based on client design aesthetic, needs, location, and desired pool size. So we can better understand your needs, please fill out the form below and we will get back to you quickly so we can get started on your custom pool!