Custom Homes in Utah
Why settle for a cookie-cutter home when you can have the home of your dreams custom built to your exact specifications? No two families are alike, and you deserve a home that is custom designed to meet your specific needs. Driggs Construction in Utah can help you create a home that is uniquely yours.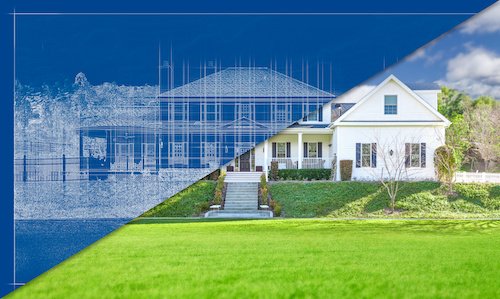 Planning a Custom Home
Although having a custom built home requires more effort than moving into a pre-owned home or a production home, the good news is that partnering with the right general contractor can simplify the process immensely.

The essential steps of planning a custom home are as follows:
Create Your Vision:
Have you always dreamed of having a wrap-around porch? Window seats in every bedroom? A cozy breakfast nook? Whatever your idea of a perfect home is, write it out and find example photos whenever possible. The more you can define your vision, the easier it will be to create plans that reflect your wishes.
Find the Right Builder:
When looking for a builder who can help bring your dream home to fruition, it's a good idea to ask for references from past clients. Some important questions to ask might include: Were they able to stay roughly within budget and projected schedule? Were they courteous and respectful? Did they use high-quality materials?
Make the Plans:
When you partner with a professional builder, they will involve you in every step of the planning to ensure you are satisfied with the project.
Custom homes in Utah often incorporate elements of the beautiful surrounding natural scenery into their design. Whether you have a lot already or are planning to purchase one, remember to keep in mind how the home you are planning will complement the environment in which it's built. Mountain views, dry weather or native plant landscaping, and passive heating for the winters are all considerations to take into your planning sessions.
Building a Custom Home
Once you have a solid set of plans and all the necessary approvals and permits, your general contractor can begin the actual construction of your new home. While the time frame will vary widely depending on multiple factors such as weather, the size of your home, and the types of materials that will be used, you are most likely looking at about 6 to 18 months of construction before your home is ready to decorate and move in.
Custom homes are built in phases, beginning with a solid set of plans and then progressing through these stages:
Preparation
Preparing the site by removing large rocks and trees, digging the foundation, and pouring concrete. After the foundation is finished, it must pass a formal inspection to be sure that it meets safety and structural integrity requirements.
Framing
Framing the walls and support structures of the home
Installation
Installing the general infrastructure for plumbing, electrical wiring, and HVAC systems. This includes pipes, wires, ducts, vents, and any mechanical components for these systems. A second inspection follows this step to ensure the safety and functionality of the plumbing, electric, and HVAC.
Touch Ups
Insulation and drywall are installed, and then your new home is ready for the internal and external finishing touches.
Finishing Your Home
The finishing elements of your custom house are what really make it feel like home.
The exterior finish consists of choosing the exterior finish, whether it's siding, brick, stone, or a combination of materials. The driveway, outdoor walkways, and patios are also constructed at this point, followed by your landscaping and any outdoor structures that need to be built. Internal details give your home a theme and sense of comfort and showcase your personal style. This includes trim, door and window casings, floors, and countertops. Finally, you will be able to select your light and plumbing fixtures, shower doors, and carpets before the final inspection and walk-through to check for any details or small tasks remaining to be done.
Why Choose Driggs For Your Custom Home in Utah?
From creating the plans to laying the foundation to putting on the final touches, Driggs Construction will be there by your side to ensure everything is going according to your requirements and wishes. We are proud to offer a full range of construction planning and contracting services, and our past clients often mention how their expectations were exceeded in testimonials and reviews. Putting the design and construction of your custom home in the hands of a trusted professional will have long-lasting consequences on your satisfaction with your home and its safety and security. We also offer home remodeling services for clients who have already purchased a home and would like to customize it to their personal tastes. Call us today for a consultation to get an idea of how we can help you build your new life.
Contact Us